Fast HVAC Services in Huntington Beach
Cooling & Heating®
Huntington Beach is rightfully considered the world capital of surfing, because the ocean in this city is simply magnificent.But the proximity to the ocean brings its own inconveniences. For example, during the cold season, residents cannot live without heating. Therefore, when your HVAC system fails, you need to already understand who will be repairing the air conditioner or furnace, or installing a new one. Try our HVAC service. We are professionals with extensive experience.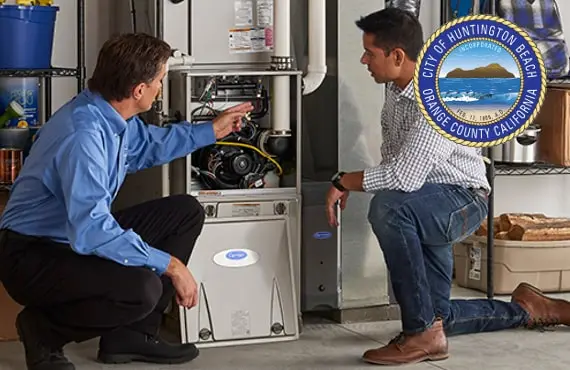 FAVORITE SERVICES
Feel free to order any of the listed services, as we are the best in Huntington Beach
HVAC Installation
When your HVAC system is over 25 years old, you are better off installing a new one than repairing it
A/C Repair & Maintenance
If another company persuades you to replace the system, take your time, we will repair your air conditioner.
Heater Replacement
Recently, California only allowed ultra-low NOx heaters, we are the best at install that and adjust
A/C Installation
Our installers have years of experience, so only choose our air conditioner installation services
Heat Pump & Furnace Repair
Due to the high humidity, furnace is corrosive and often fails, our tech will quickly fix it
How We Are Working
Why Choose Us
Rapidity
We offer flexible scheduling options so that we can service your air conditioning and heating system as soon as possible
Value
At Cooling $ Heating® we recognize that A/C repairs are often unplanned and don't always fit nice on budget constraints.
Experience
One major reason for our success in the city is the fact that we attract some of the HVAC industry's top talent
OUR BEST FOR YOU
Teem Member in Huntington Beach