We Repair Every Brand On The Market
A/C Repair
At Cooling & Heating®, we can fix your air conditioner no matter what brand it is or who you bought it from. Our specialists repair every brand on the market, including Goodman, Lennox, Trane, Bryant, York, Bryant, Carrier, Rheem, Amana, and more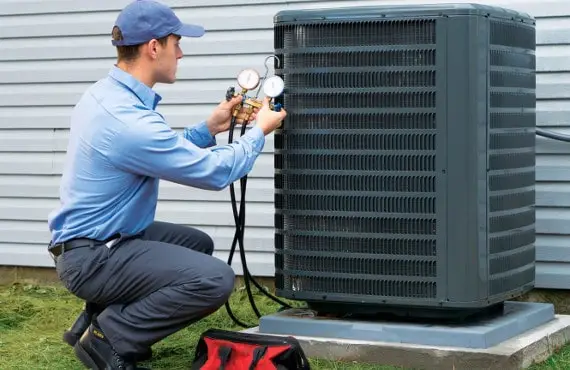 543
Capacitor Replacement
Minor Repair Service
No matter how old the air conditioning system or how tough the work, we can get it done, but If you experience any of breakdowns, don't panic. Many air conditioner issues are as minor as an A/C coolant recharge or are minor repair.
The experts at Cooling & Heating® are happy to diagnose your unit issues and let you know exactly what's going on. If you need to have work done, us has the experience and equipment to service all of your air conditioning system components, including the compressor, evaporator, condenser, dryer filter, seals and pipes.
Schedule a Local Service Today
Fully Stocked Vans
Open 7 Days A Week
Free Service Call With Repair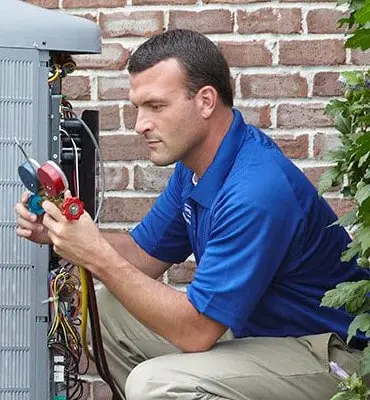 Our company treat each job like it was our own and pride ourselves in neat, clean, efficient repair. We are happy to come out to your home for a consultation, and we are always available at any time of the day or night to handle any emergency air conditioning situation.
Replacement Of Parts and Assemblies
All of our staff members are experienced in parts replacement and customization your A/C, besides our trucks are fully stocked with quality parts. Blockages, leaks, and unusual activity such as noises, smells, or a lack of cool air can all be signs that there is a problem affecting your air conditioning system.
We will not attempt to persuade you to buy any new parts or equipment during your repair if you do not require them and will make sure all the fixes we carry out are energy-efficient and cost-effective.
Licensed, Insured, Bonded
Warranty on Installed Parts
All Major Brands and Models
Refrigerant Leak Detection
Leakage of refrigerant in a HVAC system is inevitable as there are many imperfect joints fitting or welding points. If not rectified, this defect will cause a drop in efficiency to the cooling system.
Our professional staff can identify refrigerant leaks with simple methods or with more sophisticated tools such as electronic leak detectors.
All types of refrigerants
Same day service
Affordable cost
Termostat Installation and Relocations
The team of HVAC professionals at Cooling & Heating provide efficient and reliable thermostat services. Whether you need assistance repairing or replacing your thermostat, our team is ready to help you.
Our technicians are highly knowledgeable, skilled, and experienced in all types of thermostats. We know your time is valuable, so you can always expect our team to arrive on time to scheduled appointments.
Smart Thermostats
Digital and manual
Without wires
Condenser Relocations
Before you decide to proceed with an air conditioner relocation, it's wise to get advice from a knowledgeable professional who can also handle the move for you. Our guys will help your with this.
The expense of relocating equipment can vary considerably, depending on the components involved, the materials needed, and the amount of labor it takes.
Pumping out the freon and extending pipes
Moving and leveling the unit
Recharging the refrigerant
Warranty
Warranty is limited on repair or replacement of parts for A/C. If reported to Cooling & Heating, within warranty period, warranty will be Customer's exclusive remedy hereunder. Warranty is void if air conditioner unit is moved, misused or altered.
The labor warranty is 30 (days only). Labor warranty only applies to repair(s) or service described on the invoice.
Over 10 Years Of Experience
Factory Trained
High Quality Service
REPAIR SERVICE
PRICING
We have a price match guarantee! Call now for more information.
Honest free estimates! Air comfort at minimal cost.
Inspection
Coolant Level Check
Air Ducts Research
Change Your Filters
Recommendations
Inspection
Coolant Level Check
Air Ducts Research
Change Your Filters
Fixing Problem
Inspection
Coolant Level Check
Air Ducts Research
Replacement Fee
Required Parts