We Service Every Brand On The Market
A/C Service
At Cooling & Heating®, we can fix, replacement or install your air conditioner no matter what brand it is or who you bought it from. Our specialists serve every brand on the market, including Goodman, Lennox, Trane, Bryant, York, Bryant, Carrier, Rheem, Amana, and more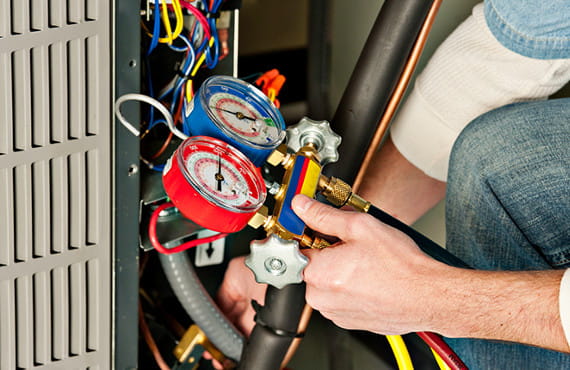 How Does A/C Work
The air conditioner in a central cooling system provides cool air through ductwork inside your home, by providing a process that draws out the warm air inside, removing its heat.
MAIN QUESTIONS OF OUR CUSTOMERS
FAQ
What Types of AC Services Do We Handle
We can do fix or install: ductless mini-splits, cental AC systems, thermostat or "smart" thermostat repair and repalcement.
How Often Should You Have Your AC Serviced
It's recommended that you get a regular tune-up for your air condition system every spring or once a year before summer.
What Does An Air Conditioner Service Include
Inspection includes checking the blower, motor, coils, the return and supply lines, refrigerant levels and drain line.
What Happens If AC Is Not Serviced
If you will not do the regular A/C servicing then dust will get deposited in it's filters what in bad affect it's working.
How Many Hours Should AC Run Per Day
Your air conditioner should run two to three cycles every hour of 15-20 minutes to maintain the temperature in your home.
How Can I Reduce My Air Conditioning Bill
A dirty filter and coils makes any air conditioning unit work harder, meaning more electricity and higher energy costs!
OUR WORK
GALLERY
So, there is some pictures of our qualified installations.
Sometimes we took a pictures of our work.
Schedule a Local Air Conditioning Service Today in Orange County
The Cooling & Heating® provides expert residential and commercial air conditioning services including new installation, maintenance and tune-ups, system repair and money-saving homeowner assisted installations.
We will be honored to help you fix your broken air conditioner or install a high-efficiency AC system in of Orange County, California.