We Install Every Brand On The Market
Heater Installation
At Cooling & Heating, we can replace your furnace no matter what brand. Our staff easy install every brand on the market in Orange County, including Goodman, Payne, Lennox, Trane, Williams, Ruud, Bryant, York, Bryant, Coleman, Cozy, Carrier, Rheem, Amana, and more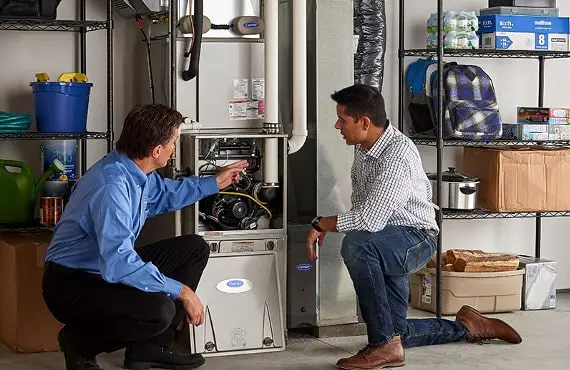 Central Ultra-Low NOx Systems
California is a leader in a healthy, clean environment and for this reason, as of fall 2019, HVAC companies have been banned from installing old-style central heating. The new equipment is an ultra-low NOx (nitrogen oxide) furnace. An installation uncompliant with these new emissions standards is liable for a fine of up to $450 if not corrected by October 2019.
Our company stands alongside Californians in taking meaningful, necessary steps towards lowering gas emissions that form ground-level ozone. You should definitely change your furnace if you notice any of the following symptoms:
Heater is between 15 and 30 years old
Producing loud noises during usual operation
Soot is collecting near the heater registers
Furnace flames are orange instead of blue
Temperature fluctuations throughout the house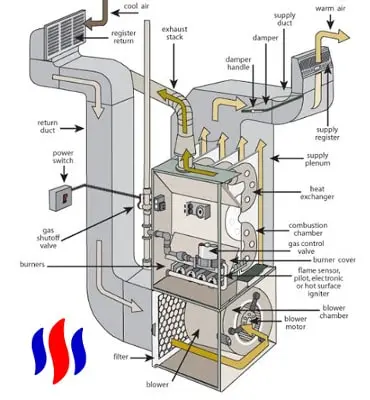 Contact us online or at 949-394-0845 and one of our Orange County furnace technicians will lay out your furnace options with a no-obligation quote. We're here to help you make an educated decision that works for your home and budget.
Central or Ductless Heat Pumps
Some common reasons people switch to heat pumps are cost savings, comfort, reduced environmental impact, convenience and aesthetics. The primary drivers of ductless heat pump costs are the number of indoor units installed and the complexity of the installation. The central heat pump system differs from the conventional heating in the absence of a furnace.
Often heat pumps are used as a combination heating and cooling system, or in addition to conventional heating and cooling equipment. Change your equipment urgently if you notice:
Insufficient Heating
Weird Noises
Odd Smells
Wall and Direct Vent Heaters
Since their launch more than 70 years ago, wall heaters have adapted to the world around them, they remain a reliable and efficient heat source today. However, even such simple equipment breaks down.
We have extensive experience in installing small direct vent furnaces and standard single or double wall heaters. Here are the signs that it's time for a wall heater replacement.
Loud clicks when cooling
Bad smell
Heater is between 20 and 40 years old
Gas Floor Heaters Replacement
Your home's heating and air conditioning system is most likely the costliest mechanical system or appliance you own, but one way to lower those large initial costs is to install a floor furnace.
Floor furnaces, while losing recognition among modern homes, are still quite relevant in older, traditional houses or homes without proper ventilation systems. Many homeowners go with a floor furnace to save thousands of dollars on traditional furnace system installation.
Energy Efficiency
Low installation cost
Simple use
Exhaust Stack Service
No heating system works without an exhaust pipe. Often, when replacing a furnace, our specialists have to replace a too worn out, rusting single wall sheet metal pipe or broken concrete exhaust hole.
It is the pipe that, in 50% of cases, is the cause of frequent heater breakdowns, and sometimes fires. You may ask, but how do you know when it is best to replace the exhaust pipe. It these signs appear, then it's time:
The pipe bends and crumbles
It is made of asbestos or concrete
Liquid flows down it
If the pipe consist of one wall
Warranty
Each system is covered by an furnace warranty, which can provide coverage for repairs if the problem with the cooling system concerns the covered components.
Most manufacturers offer 5 to 10 heater warranties, which typically cover the heat exchanger. We also offer labor warranties for a set term following the initial installation that cover defects associated with our work.
Minimum five years
No additional charges
Parts included
REPLACEMENT
PRICING
We have a price match guarantee! Call now for more information.
Honest free estimates! Air comfort at minimal cost.
$
2990
Gas Central Furnace
Delivery
Old Unit Disposal
Exhoust Fix
10 Years Warranty
Finansing
Delivery
Old Unit Disposal
Exhoust Fix
5 Years Warranty
Finansing
$
2990
Ductless Heat Pump
Delivery
Old Unit Disposal
Freon Charging
10 Years Warranty
Finansing