We Service Every Brand On The Market
Furnace Service
At Cooling & Heating®, we can fix, replacement or install your heater no matter what brand it is. Don't get left in the cold! Our qualified team members can service and repair any make and model heating system keeping you and your family safe, warm, and cozy.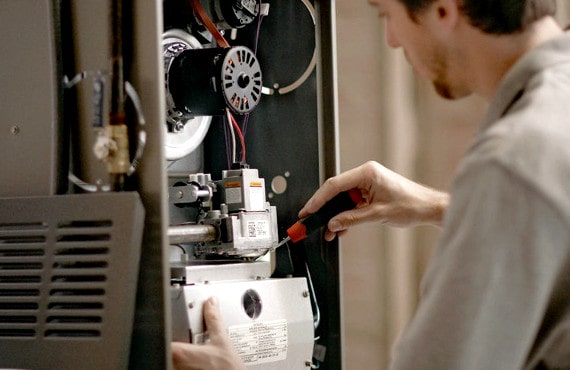 If Your Furnace Isn't Working
Here we look at how to handle furnace problems from a furnace working poorly to a heater not working at all
WHAT ELSE DO YOU NEED TO
FAQ
What is the average cost of a furnace repair
Ultimately, heater repair cost can range from $100 to $1,000 depending on the issue with the furnace.
How do you troubleshoot a furnace
Lack of maintenance · Dirty filters · Wear and tear · Electric Ignition or pilot control problems and more.
Why is my heater running but no heat?
Does your furnace blow cold air? This occurs when the blower motor runs alone without heating.
How do I reset my furnace heater
Turn the circuit breaker off and switch the furnace power button off too.
Can you install a furnace yourself
Altogether, installing a furnace yourself is simply not worth the risk for the amount saved.
How often should you have your furnace serviced
A gas heaters should be serviced at least once a year, preferably, though, in both the spring and the fall.
OUR WORK
GALLERY
So, there is some pictures of our qualified installations.
Sometimes we took a pictures of our work.
Schedule a Local Heating Service Today in Orange County
The Cooling & Heating® provides expert residential and commercial heating services including new installation, maintenance and tune-ups, system repair and money-saving homeowner assisted installations.
We will be honored to help you fix your broken furnace or install a high-efficiency heating system in of Orange County, California.