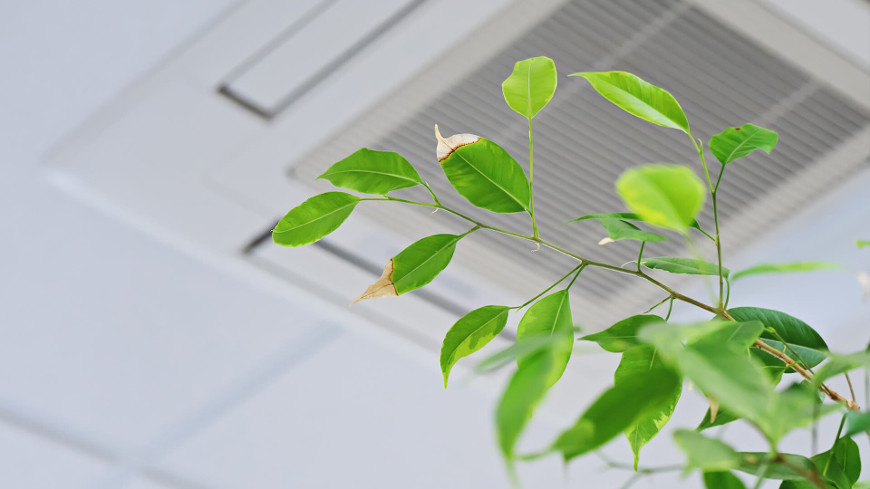 How To Improve Indoor Air Quality
No matter how clean and pure you think the air is in your home or facility, there's always a way that the air quality can be improved. The air in interior spaces are full of dander, dust, and endless microorganisms that can't be seen by the naked eye, yet can cause harmful respiratory issues, breathing difficulties, and allergies.
Other things that can decrease indoor air quality are contaminants and dirt brought in from the outside by pets or on shoes, high humidity levels caused by bathrooms and kitchens, and the wind blowing in pollutants from the outside air through open windows or doors.
But there are always ways to enhance your indoor air quality, both natural and man-made. Check out the tips below if you want to help your family breathe better.
Best Types of Air Purifiers
A home air purifier is a great way to improve indoor air quality. These appliances work to permanently remove harmful particles from the air, either through ionization or through air filters that cleanse the air.
Portable Air Purifier

Compact air purifiers of this type are meant to cleanse only one room, and be easily be moved to another room if necessary. Great for buildings with no central air conditioning, it can remove nearly 100% of micro-particles.
Whole-House Air Purifier

Connected to a central HVAC system, whole-house purifiers help to clean the air going in and out of the unit. Ideal for improving air quality of large indoor areas.
Anti-Bacterial Air Purifiers

These types of purifiers utilize ultra-violet light to kill germs and wipe out harmful microorganisms, aided by anti-bacterial filters.
Carbon Filters

Known for their natural absorbing power, carbon filters use their built-in oxygen to lift odors, gases, and vapors from the air. Normally used in tandem with HPEA filters
Best Types of Air-Filtering Plants
For a more natural, and more inexpensive way to improve the indoor air quality in your home, houseplants and foliage are an ideal solution. In their Clean Air Study, NASA analyzed a group of houseplants where they found each of these natural filters had a unique way of removing toxins from the air and can actually improve respiratory health. Here are some of the top performing varieties according to their findings. (Note: most are toxic to pets, so keep them out of reach of dogs and cats.)
Barbeton Daisy

Cute and colorful, this beautiful Gerbera was proven effective at cleansing the air of formaldehyde, benzene and trichloroethylene. Does best in ample natural light.
Devil's Ivy

These green spotted stunners help filter out benzene, formaldehyde, xylene, and toluene, but definitely need to be kept moist in order to thrive.
English Ivy

A popular choice of landscapers, this climbing plant is effective at filtering benzene, formaldehyde, xylene and toluene, and has been found to also reduce mold inside the home.
Flamingo Lily

With classic beauty in red or pink, these lilies will filter formaldehyde, xylene, toluene, and ammonia from indoor environments.
Florist's Chrysanthemum

These blooming beauties thrive in bright light, and work to filter out benzene, formaldehyde, trichloroethylene, xylene, toluene, and ammonia. Tip: keep them away from artificial lights at night.
Lady Palm

This non-toxic fan palm plant is one of the top cleansers of formaldehyde, ammonia, xylene and toluene. Ideal for placing in the corner of a room.
Peace Lily

One of the best natural air filters, NASA found the Spathiphyllum removed benzene, formaldehyde, trichloroethylene, xylene, toluene, and ammonia from the air, which was every chemical in their study.
Red-Edged Dracaena

Also called the dragon tree, these low-maintenance beauties help filter benzene, formaldehyde, trichloroethylene, xylene, and toluene.
Snake Plant

These sleek succulents filter out benzene, formaldehyde and tricholoethylene, and should be watered very little, like most other succulents.
Weeping Fig

Also known as a Ficus tree, this popular evergreen filters formaldehyde, xylene, and toluene from the air. Grows well indoors, but can be poisonous to pets.


Thank you very much for the article, but I did not understand what filter you recommend to install? Plants don't count)

Usually, when we replace the old HVAC system with a new one, we install a regular paper filter and an UV light. I think that's enough.